Private investment undertakings (PIUs) are investments that are offered to institutional investors and high-net-worth individuals (HNWIs). PIUs being offered to investors in Bahrain must be registered with the Central Bank of Bahrain (CBB) – and operators must be able to show that investors are HNWIs who clearly understand the risks of investing in the PIU. 
High net-worth investors
The CBB defines HNWIs as:
Individuals holding financial assets (either singly or jointly with a spouse) of at least USD 25million
Companies, partnerships, trusts or other commercial undertakings, which have financial assets available for investment of not less than USD25 million
Governments, supranational organisations, central banks or other national monetary authorities, and state organisations whose main activity is to invest in financial instruments (such as state pension funds)
PIU operators are required to provide a written confirmation from each PIU participant, stating that the participants satisfy the definition of an HNWI and confirming that they understand the types of risks involved in the PIU. There is a minimum initial investment of USD3million (or equivalent).
Relevant persons
Relevant persons involved in the operation of a PIU include the:
Operator (must be a licensed entity)
Custodian (must a CBB licensee)
Trustee (must be a CBB licensee)
Fund manager (must be a licensed entity)
Fund administrator (must be a CBB licensee)
Investment advisor (optional)
External auditors
Permissible combinations of relevant persons
A PIU's operator can also be the custodian or the fund manager – but not both
If structured as a trust, the PIU's trustee (who is the operator) must not be the fund manager
A PIU's trustee may also be its custodian or fund administrator
Where a PIU appoints a fund manager, the role cannot be combined with that of the PIU's custodian or fund administrator
A PIU's custodian may also be its operator or fund administrator
A PIU's fund administrator may also be its custodian
Draft private offering document
Draft memorandum and articles of association (or trust instrument or deed, where appropriate)
Certified, valid passport copies and CVs of its directors
A board resolution from the operator, approving the application to seek registration
The PIU's operator (or custodian) and directors (or trustees) must ensure that constitutional documents:
Do not contain false or misleading information
Do not conflict with CBB requirements or other laws and regulations that apply to the PIU's relevant persons
Are not prejudicial to the interests of PIU participants – either generally or as a class
CBB reporting
Financial statements must be audited each financial year by a qualified, independent external auditor in Bahrain. Where a PIU is run as a fund, the fund company's audited financial statements must be submitted to the CBB within three months of its financial year-end. Quarterly statistical returns (QSRs) must be submitted to the CBB within 21 calendar days of the end of each quarter.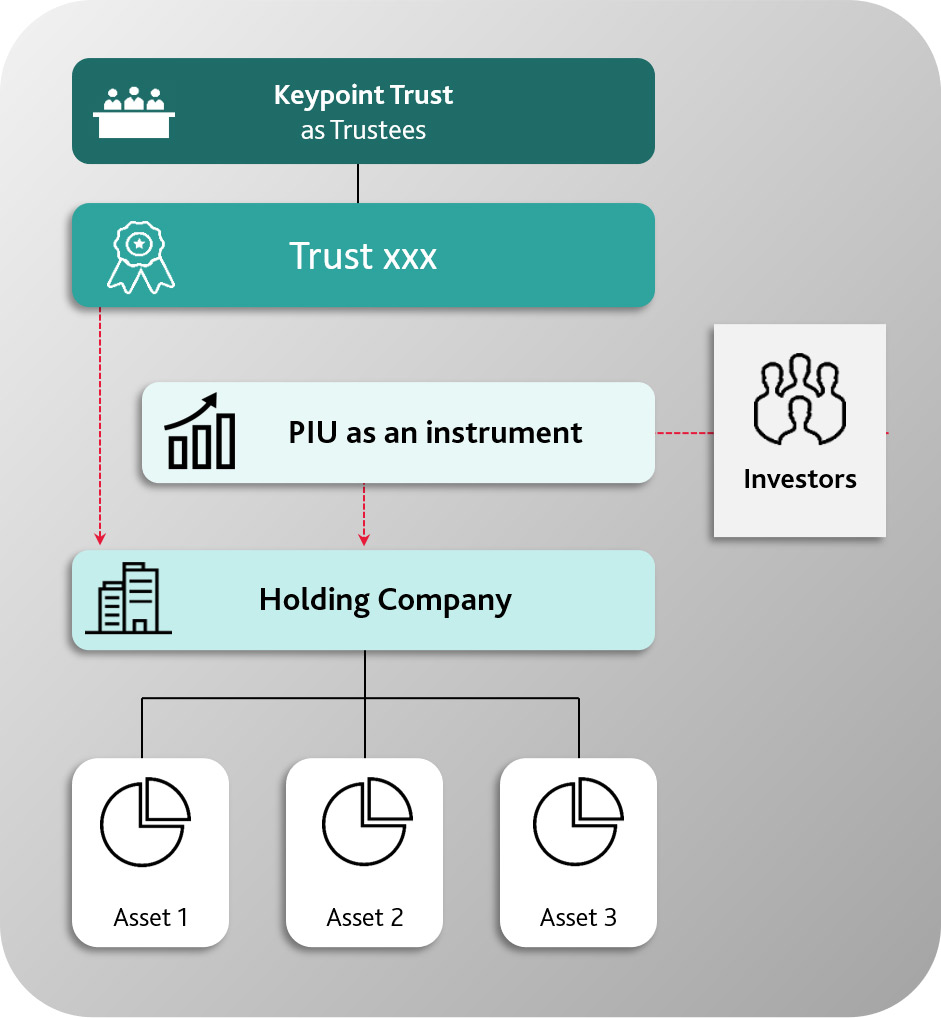 About Keypoint Trust
Keypoint Trust B.S.C.(c) is licensed by the CBB under Bahrain's trust law to provide trustee and trust administration services. It is wholly owned by the Keypoint Group, which was established in 2006.
Keypoint Trust has established real estate investment trusts, employee benefits trusts for share ownership plans, debt reorganisation trusts and family trusts and offers a range of trustee services for those trusts. Our clients include investment banks, family offices, asset managers and HNWIs.
Keypoint Trust B.S.C.(c) is licensed by the Central Bank of Bahrain as Trust Service Provider.