Mutual funds in the Kingdom of Bahrain are regulated by the Central Bank of Bahrain's (CBB's) collective investment undertaking (CIU)  regulations, as set out in Volume 7 of the CBB rulebook. Overseas operators wishing to offer overseas-domiciled CIUs to Bahrain residents must hold the appropriate CBB license – or appoint a CBB license as a distributor.  
What are CIUs?
CIUs are undertakings:
Where the sole object is the investment of capital – raised from the public or through private placement – in financial instruments and other assets
Which spread risk appropriately
Whose holdings may be re-purchased or redeemed out of assets
Types of Bahrain-domiciled CIUs
Established under the laws of the Kingdom of Bahrain, Bahrain-domiciled CIUs can be constituted as:
Common CIUs – established under Bahrain's contract law
Trusts – established under Bahrain's trusts law
Corporates – established under Bahrain's commercial companies law
Bahrain-domiciled CIUs are classified as: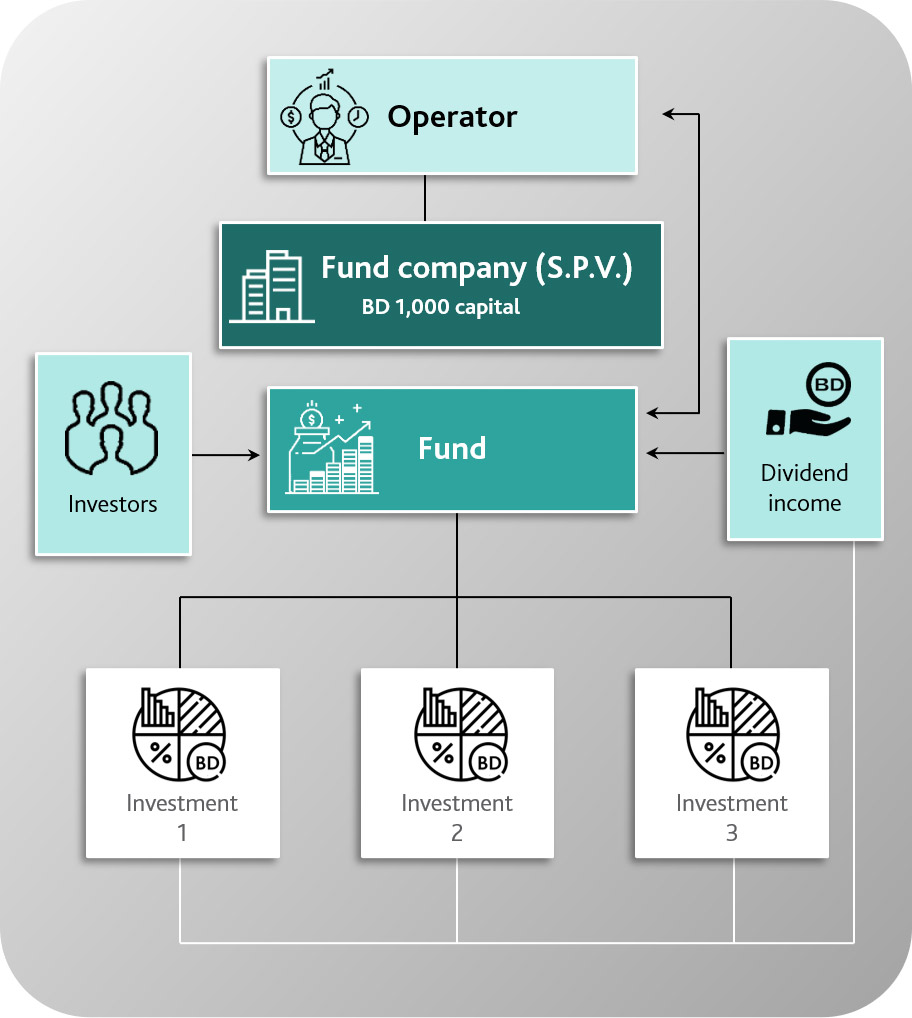 Relevant persons
Relevant persons required to set up a fund in Bahrain include the:
Operator
Trustee (if applicable)
Fund manager
Custodian
Fund administrator
Registrar (Transfer agent)
Placement agent (only a CBB licensee can offer overseas domiciled CIU to Bahrain residents)
Investment advisor
External auditor
Fund operators
Operators must be domiciled in a reputable jurisdiction acceptable to the CBB and hold an appropriate license from the CBB (or from a regulatory authority acceptable to the CBB, permitting the entity to establish and operate CIUs).
Operators' duties include:
Taking all reasonable steps to register, authorise, establish, operate and wind up the CIU
Ensureing that the operations and investments of the CIU are subject to compliance monitoring and reporting by its Shari'a Board members/Advisors, in accordance with applicable AAOIFI standards in case of Shari'a compliant CIUs
Keeping all CIU documents consistent, current and updated, in line with applicable laws and regulations and as approved by, or notified to, the CBB
Making documents available to investors, including:
The instrument
The prospectus or equivalent document
All contractual agreements related to the CIU
Annual and semi-annual financial reports
Ensuring compliance with contracts' terms and conditions
Ensuring that all applicable anti-money laundering laws are complied with
Liaising with the CBB as necessary
Appointing directors who are fit and proper and approved by the CBB
Putting appropriate corporate governance in place
Avoiding – and addressing – any conflicts of interest
Considering whether CIU participants should be given voting and/or other participatory rights
Ensuring that reports submitted to the CBB and investors are accurate and submitted on a timely basis, such as:
Financial statements
Financial statements of fund companies  (where CIUs are structured as corporates)
Quarterly statistical returns
Keypoint Consulting W.L.L. is licensed by the Central Bank of Bahrain as Fund Administrator.