Family trusts can protect assetst from lawsuits and claims; ensure the orderly distribution of funds to beneficiaries; fund future generations' education, medical, and marriage requirements; enable professional asset management; and minimise the tax impact on inheritances in certain jurisdictions.
Trusts are legally binding arrangements under assets are entrusted to a third party to pass on the assets (and any benefits arising from those assets) to other parties. Arrangements are formalised through a trust deed.
As legal vehicles, trusts maintain bank and investment accounts in their own name and can contract with third parties.
Family trusts are trusts established by someone during their lifetime to hold assets or run a business for the benefit of family members (including future generations). A wide variety of assets can be assigned to a family trust, including cash, financial investments (both liquid and illiquid), real estate, artefacts, precious metals, business interests, life insurance policies and debts.
Family trusts can be set up to protect the ownership of assets – after the settlor's death – against law suits and claims on estates; to ensure the orderly distribution of funds to intended beneficiaries over a period of time; to set aside money for future generations for special reasons – such as education, medical or marriage; to provide for professional asset management; and to minimise the tax impact on inheritances in some jurisdictions.
Parties to the trust include the party who owns the assets and has decided to pass them (the settlor); the parties who will receive the assets and benefits (the beneficiaries); and the party to whom the assets are entrusted (the trustee). Trustees also maintain accounting records and prepare financial statements.
Trusts may also have a trust protector (appointed to direct trustees in relation to their administration of a trust), a trust enforcer (a person other than the trustee who enforces a trust in relation to its non-charitable purposes) and a co-trustee (jointly responsible for managing assets where a settlor names more than on trustee).
In Bahrain, trustees must be licensed and are regulated by the Central Bank of Bahrain (CBB) as either Category A (with full powers and duties) or Category B (with limited powers and duties). Category B trustees have less onerous licensing requirements and can only act alongside a Category A trustee.
Trustees generally take ownership of a trust's assets, manage those assets and arrange for beneficiaries to receive their benefits according to the settlor's wishes. As independent parties, trustees are legally bound to act in beneficiaries' best interests on decisions regarding assets and distributions.
All trusts in Bahrain are governed by law 23 of 2016. Trusts are established through a trust deed, in English or Arabic, signed by both the settlor and trustee (or by the settlor alone if created by a unilateral declaration of trust), notarised by a notary public and logged in the register of trusts maintained by the CBB. Trust deeds must identify the initial trust property to be transferred to the trust; the purpose of the trust; the beneficiaries (or class of beneficiaries); the trust's name; its registered office; and details of the trustee.
Frequently asked questions
About Keypoint Trust
Keypoint Trust B.S.C.(closed) (Keypoint Trust) is licensed by the CBB as a Category A trustee.
As a trust service provider, Keypoint Trust has acted as trustee and offered trust administration services since 2009, establishing a range of trusts including family trusts, employee benefit trusts, trusts from debt realisation structures and real estate investment trusts.
Keypoint Trust uses its deep expertise and proprietary systems across all facets of the family trust process including:
Brainstorming thought processes
Drafting trust deeds and having them legally reviewed, notarised and filed with the CBB
Maintaining trusts' books of accounts
Distributing benefits to beneficiaries according to the settlor's wishes
Ensuring applicable regulatory reporting requirements are met
Preparing annual financial statements
Arranging for audits – if required
Keypoint Trust's board and senior management consists of long-established highly regarded senior business leaders. Nandakumar Narasimhan has led Keypoint's trust function since its establishment. Guruparan Kumarasamy was a partner in a leading professional services firm in Bahrain and has lived in Bahrain since 1982. Wajdi Al Jallad, a Bahraini national, is the managing director of the Keypoint group. An independent director, Peter Griffiths was a partner in a leading professional services firm in Bahrain and has been resident mainly in Bahrain since 1983.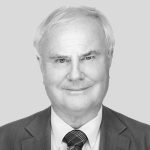 Peter Griffiths
Independent Director
Keypoint Trust B.S.C.(c) is licensed by the Central Bank of Bahrain as Trust Service Provider.