E-invoicing solution
Our cloud-based application (hosted within Saudi Arabia) generates, manages and clears ZATCA-compliant e-invoices and credit and debit notes e-invoices by:
Generating e-invoices in XML, system interface in English. Required data fields (Arabic and English) reflected on e-invoices. Language manipulation not in scope.
Complying with ZATCA requirements. ZATCA prohibits anonymous access, mandates session management and forbids the generation of multiple invoice sequences.
Supporting local data archiving.
Integrating with ERP (and manual invoicing) platforms
Integrating with ZATCA's platform(s)
Hashing and cryptographically stamping e-invoices
Generating QR codes, required for all invoices after 1 January 2023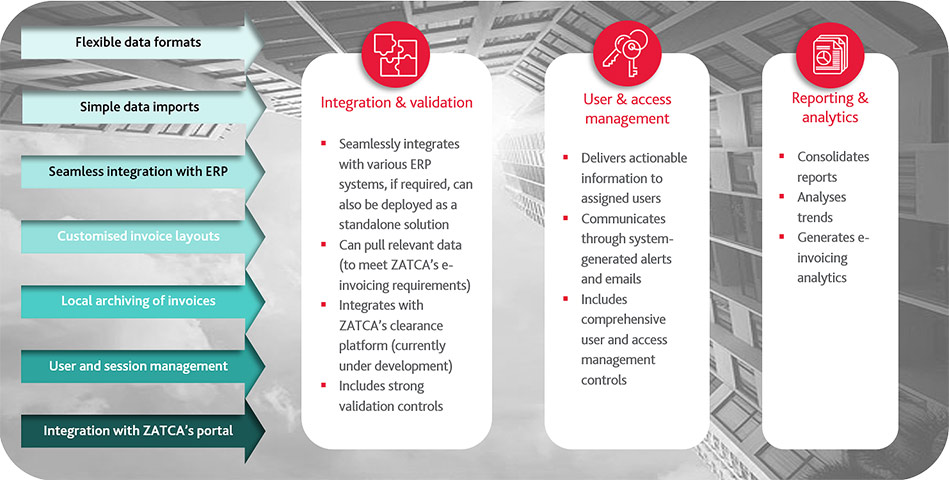 Solution implementation
Our implementation process – built on broad experience and covering required automation – is designed to ensure that our KSA clients meet the requirements of 4 December 2021 (e-invoice generation} and 1 January 2023 (integration with ZATCA systems).
4 December – generation
Data sent to e-invoicing engine by ERP systems – or manually entered and uploaded to e-invoicing solution.
1 January 2023 – integration
Operational interface between the e-invoicing engine and ZATCA's system(s).


Integration across phases 1 and 2